Germany's Citizen Radiation Testing Strahlentelex, A Print Issue From 1987
Post Chernobyl people in Germany found themselves getting insufficient information from their government on radiation and food contamination. Strahlentelex is the citizen testing system that evolved.
Peter Melzer was able to obtain a 1987 copy of the Strahlentelex paper. The paper went out periodically, frequently being sent by fax machine to consumers. The reports were highly useful as they explained in great detail what products were found to be contaminated. Listing a food product, brand, sell by date and contamination level. This enabled consumers to know exactly what on the shelves at the store were or were not safe. The report also showed people's whole body count results. This gives others an idea what is going on in various areas and provides more information for people to make their own decisions.
Pages of the 1987 report are included below, a PDF can be found here.
Some notes on the charts if you don't read German well.
Figure 2 shows means and and standard deviations of cesium-134 and cesium-137 whole body counts for men (left) and women (right) in Bq/kg body weight versus time (month). The dashed curves show the means for three consecutive months. The line of small numbers at 26 provides the number of persons measured in each month. The issue dates from 1987, that is 18 months after the accident. The graphs and tables cover these 18 months. The tables on page 5 list the mean counts [Bq] by isotope and gender for Berliners (male: Tab. 1; female: Tab. 2) and underage Berliner children (Tab. 3). Tab. 4 lists monthly mean effective absorbed doses [millirem] by region, gender and age group. Note that people in Bavaria took the biggest hit, because they were most affected by the plume from Chernobyl. The table of page 2 are whole body counter measurings of humans, left male, right female.
Thanks to Peter and Edano for helping with the translation/interpretation.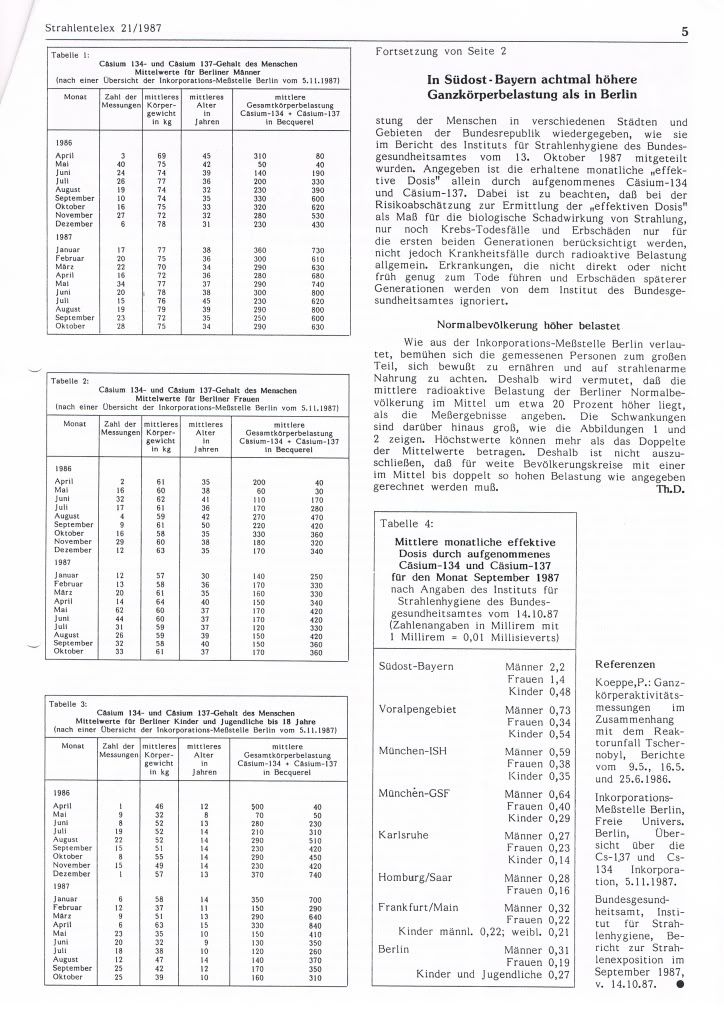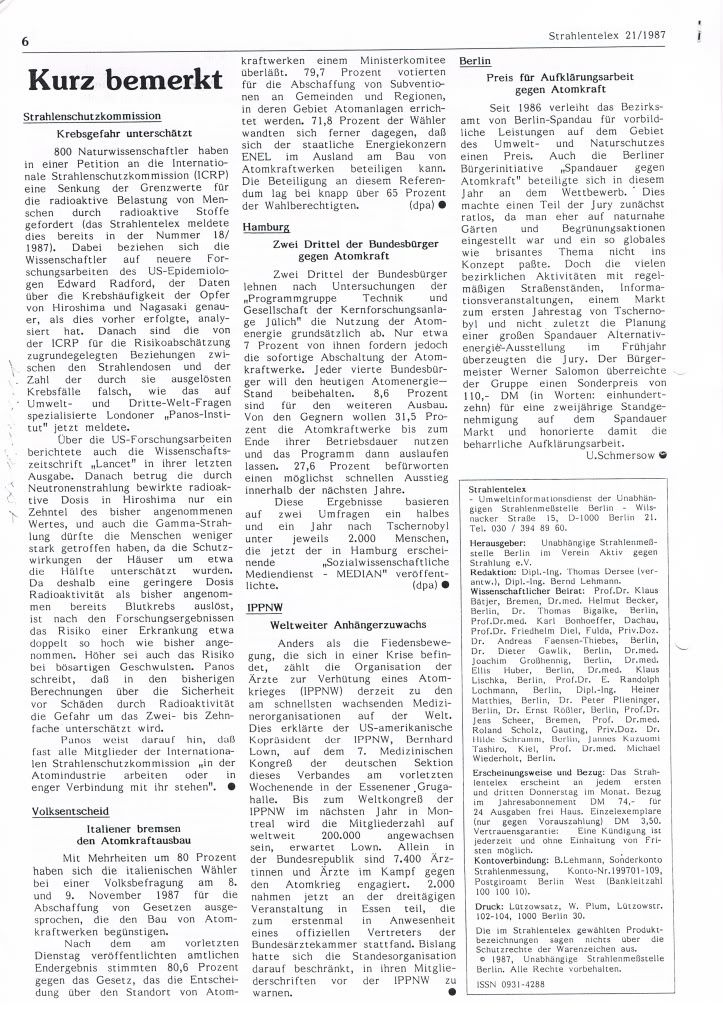 This article would not be possible without the extensive efforts of the SimplyInfo research team
Join the conversation at chat.simplyinfo.org

© 2011-2023 SimplyInfo.org, Fukuleaks.org All Rights Reserved Content cited, quoted etc. from other sources is under the respective rights of that content owner. If you are viewing this page on any website other than http://www.simplyinfo.org (or http://www.fukuleaks.org) it may be plagiarized, please let us know. If you wish to reproduce any of our content in full or in more than a phrase or quote, please contact us first to obtain permission.