Oyster Creek Sees High Water, Possible Power Outage As Sandy Makes Landfall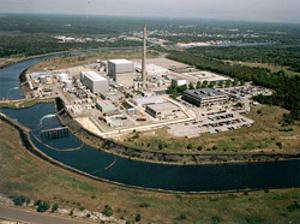 Oyster Creek is now seeing elevated water as Sandy makes landfall in the area. Barnegat Bay is the area near the plant. The USGS water sensor went up over the 8 foot level last night and is currently about 7.5 feet.. Atlantic City is showing a 6 foot water level increase at a USGS sea station and has some street flooding as of this morning. NOAA is predicting landfall for about  4pm EST give or take 3-5 hours.
Reader April contacted us to explain the flooding in the area near Oyster Creek. She used to live near the plant.  During Irene last year they had 10 foot waves that went 40 feet onto their property. Their home and neighbors homes lost bulkheads and outdoor structures during Irene. Damage to the area from Sandy is expected to be far worse. This is mentioned because it gives a good idea what Oyster Creek Nuclear Station will be dealing with.
This image shows how low the release canals for the cooling system sit to the water on the small estuary for Oyster Creek.
Oyster Creek nuclear plant does not sit at a very high elevation related to the bay and inlet. Near the intakes is about 10 feet (about 3 meters) above sea level, other parts of the plant range between 6-17 feet. These areas are expected to see storm surge from Sandy today with the eye just south of Atlantic City early evening. NOAA is expecting 7-11 foot storm surge. NOAA gives a 5-10% chance for storm surge to exceed 10 feet in that area.  This puts Oyster Creek in the possibility of flooding from storm surge.  The semi-sheltered location of the plant not directly on the sea front may afford some protection for the intakes from debris and smashing large waves.
The other issue being offsite power loss. The local power utility PSEG is showing power to still be on in that portion of New Jersey and also Salem County where Salem Nuclear Station is located.  But Penn Power is showing that area near Oyster Creek to be under widespread outage. Penn Energy shows Peach Bottom nuclear plant to still have grid power. So right now it is unclear of Oyster Creek still has grid power or not. As soon as we know more we will post an update.
This article would not be possible without the extensive efforts of the SimplyInfo research team
Join the conversation at chat.simplyinfo.org

© 2011-2023 SimplyInfo.org, Fukuleaks.org All Rights Reserved Content cited, quoted etc. from other sources is under the respective rights of that content owner. If you are viewing this page on any website other than http://www.simplyinfo.org (or http://www.fukuleaks.org) it may be plagiarized, please let us know. If you wish to reproduce any of our content in full or in more than a phrase or quote, please contact us first to obtain permission.