Taiwan's Risky Nuclear Program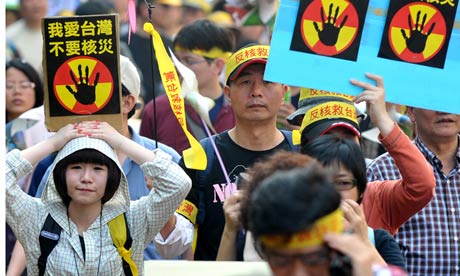 Taiwan currently has 4884 MWe of nuclear power capacity by means of 3 active plants and 6 reactors, which makes up around 8.1% of its national energy consumption. via Wikipedia. These include reactors identical to those in Fukushima Daiichi.
The island is riddled with sesimic faults and five offshore volcanos, the reactors in Taiwan all are in the list of the 12 most dangerous nuclear plants in the world. Also adding to the risks and problems for the country's nuclear program is the country's small size. Storage of the waste fuel generated by these plants worry those who live nearby on the small island chosen for the waste facility. Failure of the facility could put the entire country at risk. The low level storage facility has been full for the last 5 years and is leaking cesium 137 into nearby farm fields.
Even with the storage facility plants in Taiwan have double racked spent fuel pools creating even more risk in an accident than the ones at Fukushima Daiichi. A US company was brought in to clean up the spent fuel pool at one plant and found "ordinary rubbish, including diving gear, bottles, cables and other detritus"
After Fukushima public backlash against the nuclear plants in Taiwan increased as did concerns about the newest nuclear project under construction. The nuclear plant #4 is being built by the local power company rather than an outside nuclear company as was done with previous plants. The cost has quadrupled to over $10 billion USD. Even more money is required to finish the plant.
Experts are concerned with the high number of fatalities and cancers if there were to be a major nuclear disaster in Taiwan. Legislators are now calling for the current nuclear plants to be converted to natural gas as the cost would be a fraction of the cost to run the nuclear reactors and would resolve the nuclear waste problem from becoming worse.
Below an image of the faults and volcanos around Taiwan:
This article would not be possible without the extensive efforts of the SimplyInfo research team
Join the conversation at chat.simplyinfo.org

© 2011-2023 SimplyInfo.org, Fukuleaks.org All Rights Reserved Content cited, quoted etc. from other sources is under the respective rights of that content owner. If you are viewing this page on any website other than http://www.simplyinfo.org (or http://www.fukuleaks.org) it may be plagiarized, please let us know. If you wish to reproduce any of our content in full or in more than a phrase or quote, please contact us first to obtain permission.