5.9 Shallow Quake Near Daiichi, May Have Challenged SFP Resistance
Today's quake at Daiichi has been upgraded to a 5.9
04:54 20 September 2013
M5.9 quake strikes Fukushima, no reports of plant damage
TOKYO, Sept. 20, Kyodo
The initial data showed it close to the plant and shallow
Magnitude: 5.3
Mercalli scale: 5
Date-Time [UTC]: 19 September, 2013 at 17:25:09 UTC
Local Date/Time: Thursday, September 19, 2013 at 17:25 in the afternoon at epicenter
Coordinate: 37° 4.296, 140° 38.970
Depth: 22.20 km (13.79 miles)
Hypocentrum: Shallow depth
Class: Moderate
Region: Asia
Country: Japan
Location: 19.75 km (12.27 miles) – of Ishikawa, Fukushima, Japan
TEPCO released this report of impact at the plant:
2013 simultaneously mail news related parties
平成25年9月20日地震情報(福島第一・福島第二原子力発電所関連) Earthquake Information September 20, 2013 (Fukushima first Fukushimadainigenshiryokuhatsudensho-related)
平成25年9月20日東京電力株式会社 Tokyo Electric Power Co., Inc. September 20, 2013
本日(9月20日)午前2時25分頃、福島県浜通りを震源とする地震(M5.8)が発生しました。 (September 20) 25 At around 2:00 am, (M5.8) occurred Earthquake in Fukushima prefecture beach street today.
(楢葉町:震度5弱、富岡町:震度4、浪江町:震度4、広野町:震度5弱、大熊町:震度4) (Naraha: intensity 5 lower, Tomioka town: seismic intensity 4, Namie town: seismic intensity 4, Hirono town: intensity 5 lower, Okuma town: seismic intensity 4)
福島第一原子力発電所については、現在のところ、以下の設備については異常はありません。 For Fukushima Daiichi nuclear power plant, at present, there is no anomaly for the following equipment.
・1~6号機:プラントパラメータ異常なし ・原子炉への注水設備:異常なし ・原子炉格納容器ガス管理システム:異常なし ・電源設備:異常なし ・1~3号機窒素封入設備:異常なし ・使用済燃料プール冷却:異常なし ・水処理設備および滞留水移送:異常なし ・モニタリングポスト:異常なし · 1-6 Unit: right to use without the abnormal amenities: enclosed nitrogen Unit, 1-3 no abnormality amenities: power supply, no abnormality: System Administration gas container storage furnace atomic-no abnormality: water injection equipment of the furnace atomic and no plant parameter error No abnormality: monitoring post no abnormality: accumulated water transfer equipment and processing water, no abnormality: spent fuel pool cooling
福島第二原子力発電所については、現在のところ、異常はありません。 For Fukushimadainigenshiryokuhatsudensho, at present, there is no abnormality.
現在、パトロール実施中です。 We are currently conducting patrol.
汚染水タンクについては、現在確認中です。 For contaminated water tank, it is currently being reviewed.
両発電所ともに、けが人はありません。 Both power plants, there is no wounded.
なお、福島第一原子力発電所および福島第二原子力発電所において観測された地震計の数値は以下のとおりです。 In addition, the number of seismograph observed Fukushima Daiichi nuclear power plant and in the Fukushimadainigenshiryokuhatsudensho are as follows.
・福島第一原子力発電所 水平:41.5ガル(6号機) Fukushima Daiichi Nuclear Power Station Horizontal: 41.5 gal (Unit 6)
垂直:20.7ガル(6号機) Vertical: 20.7 gal (Unit 6)
・福島第二原子力発電所 水平:37.4ガル(1号機) · Fukushimadainigenshiryokuhatsudensho Horizontal: 37.4 gal (Unit 1)
垂直:31.1ガル(1号機) Vertical: 31.1 gal (Unit 1)
The quake was near a 6. TEPCO has stated previously that unit 4's spent fuel pool could withstand a "6" for vertical shaking. They refused to give any such rating for horizontal shaking. So far no abnormalities have been admitted by TEPCO or detected. It is a reminder how tenuous the situation is. Adding to the ongoing concerns at the plant, TEPCO showed yesterday that the unit 1-2 vent tower has new damage to the bracing system. The base of this tower has been off limits since radiation levels of 10,000 mSv/h were found around the base of the tower. This creates a challenge to do any repair work or to take the tower down.
Tower damage handout http://www.tepco.co.jp/nu/fukushima-np/handouts/2013/images/handouts_130918_13-j.pdf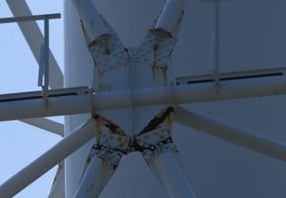 This article would not be possible without the extensive efforts of the SimplyInfo research team
Join the conversation at chat.simplyinfo.org

© 2011-2023 SimplyInfo.org, Fukuleaks.org All Rights Reserved Content cited, quoted etc. from other sources is under the respective rights of that content owner. If you are viewing this page on any website other than http://www.simplyinfo.org (or http://www.fukuleaks.org) it may be plagiarized, please let us know. If you wish to reproduce any of our content in full or in more than a phrase or quote, please contact us first to obtain permission.