WIPP Plutonium Leak May Have Been From Ceiling Collapse
Officials are considering a ceiling collapse that crushed radioactive waste barrels containing plutonium as a possible cause for the radiation leak detected almost a week ago at the WIPP facility.
The head of the facility admitted they think a container has been breached.
"Franco said indications suggest a drum or drums containing radioactive waste may have breached for reasons that are not yet known."
One possible cause officials gave to the press was that the ceiling in the area may have fallen in crushing the barrels and causing some to open, leaking plutonium.
"No one has gone below the surface since the event, so officials can only hypothesize about what happened. Drums of low level waste are piled up in stacks underground and one of the working theories right now is that a big slab of the roof broke free, hit the stack, knocked some drums off and smashed and opened one or more of them."
In our early report we identified the location DOE considers to be the possible location of the plutonium release. It is in a section of the facility where they are currently loading waste for permanent storage. This theory of the roof falling in is certainly credible. A local opposition group documented the delaminating and ongoing failures of the ceiling of the panel 1 area even before they were done loading the area, this is the first section of the mine to be used.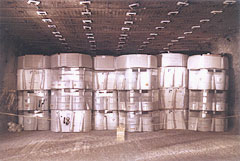 This is what the barrel storage rooms look like as they fill them. It is not known if panel 7 where loading was going on has been also loading high level waste casks in the same area. WIPP began accepting high level plutonium waste in recent years.
Representatives from the state government were also not happy that it took DOE until after the state discovered offsite plutonium for them to admit the leak. DOE claimed they needed extended time to do such tests. New Mexico's environmental check lab had their result with 24 hours of removing the offsite filter.
This article would not be possible without the extensive efforts of the SimplyInfo research team
Join the conversation at chat.simplyinfo.org

© 2011-2023 SimplyInfo.org, Fukuleaks.org All Rights Reserved Content cited, quoted etc. from other sources is under the respective rights of that content owner. If you are viewing this page on any website other than http://www.simplyinfo.org (or http://www.fukuleaks.org) it may be plagiarized, please let us know. If you wish to reproduce any of our content in full or in more than a phrase or quote, please contact us first to obtain permission.