SimplyInfo.org Coronavirus Live Blog 3.23.2020
This is an ongoing update of headlines and information related to the coronavirus outbreak. Newest information at the top. If you have a question or want to discuss this issue in depth, we have been discussing this issue in our chat system. Information is updated throughout the day with a large update every morning US time.
Bookmark Covid19.SimplyInfo.org to always get the newest live blog page as we have to close and open a new page periodically to improve load times.
Yesterday's headlines from 3.22 can be found here
____________________________________________________________________________________________
CDC says virus lived on surfaces in cruise ship cabin for 17 days after passengers left.
San Diego closes all parks, beaches, trails
FL governor orders travelers from NY or NJ to self quarantine for 14 days
The National Guard in Arizona is trucking groceries to grocery stores.
New Mexico issues stay at home order
Pence asks FDA to approve DIY nasal swab collection for virus testing. 
Amazon teams up with Gates foundation to deliver test kits to homes in Seattle.
US had 100 deaths in 1 day, pushes total over 500
Seattle starts virus monitoring program with home test kits
Oregon orders stay at home, closes non essential businesses
SD confirms multiple instances of community spread in the state. First case in womens prison system, state urges significant business and public gathering restrictions.
Hiking trails in LA county closed due to crowding.
Army field hospitals will arrive in NYC in 3 days
Netherlands bans all public gatherings til June 1
Canada sees an increase of cases by 1/3 in a day 
Chicago sets up 5 quarantine hotels
Nigeria closes border 
WHO starts sweeping multi country clinical trials
3 doctors die in France
Zimbabwe closes borders, all non essential businesses.
13 year old girl dies of virus in Panama
Fannie Mae and Freddie Mac pause mortgages for property owners as long as they don't evict tenants
US task force asks anesthesiologists to convert surgical equipment to use as ventilators.
KS bans gatherings of more than 10 people
SC bans gatherings of more than 3 people
UK goes full lockdown
South Dakota hospitals develop in house lab test for virus
Cuba sends doctors to Italy
Passengers from Diamond Princess were never required to be tested for the virus, raising concerns that asymptomatic cases were allowed to leave quarantine.
WI orders non essential businesses closed 
Omaha crafters mobilize to supply local hospital with fabric masks
Omaha non profit cranks out toilet paper to help with shortage
Google's virus screening tool rolls out to more cities in California
Bay Area public health official has virus
29 Boeing factory workers have the virus, one died overnight. Boeing closed one of the Seattle area factories.
24 residents and 6 staff of another WA state nursing home have the virus, one patient has died.
Oregon closes all state parks after throngs of people show up
Virginia closes non essential businesses
NY governor orders hospitals to increase their bed capacity by 50%, 100% if they can.
NY state is testing 16000 people a day 
Oxford and a Chinese medical partner may have a 30 minute home virus test ready to produce and sell within 4 week. It would cost $25.
23 Italian doctors have died from the virus
US Surgeon General concerned vaping may be causing the unusual number of young people with serious illness from the virus in the US and Italy
Spain's ICU cases decrease slightly, giving hope they may be making progress
19 states in India under complete lockdown. All domestic commercial flights are grounded.
Mass closes all non essential businesses.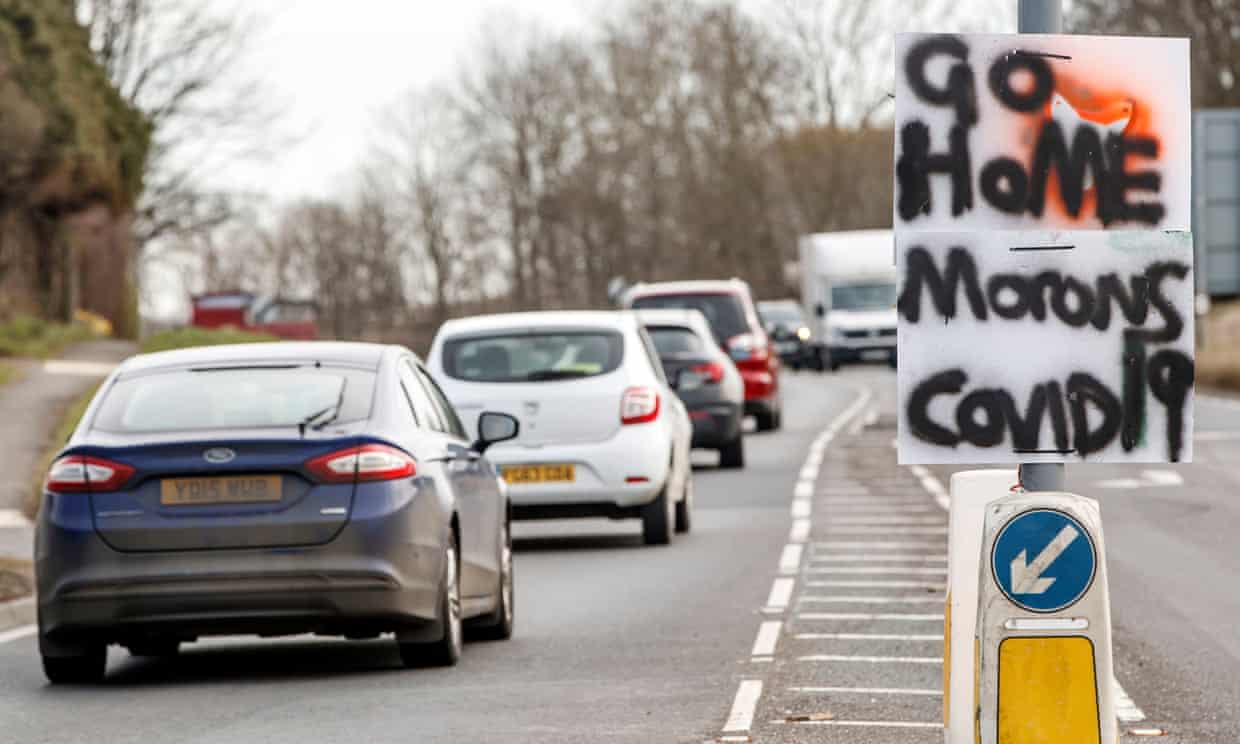 photo The Guardian
MN YMCA locations open for child care for essential workers who have none with the schools closed.
How Italy failed to convince people the outbreak was serious.
The rush to roll out neglected telemedicine programs
Deaths in Canada double overnight, govt threatens financial or criminal punishment for people ignoring restrictions.
Thailand has 122 new cases
Australia has 1600 cases, denies port to a cruise ship
Hobbled IRS may need months to put cash into Americans' hands
Dallas goes shelter in place.
Loss of sense of smell may be a sign of a COVID-19 case
graphic Reuters
This article would not be possible without the extensive efforts of the SimplyInfo research team
Join the conversation at chat.simplyinfo.org

© 2011-2023 SimplyInfo.org, Fukuleaks.org All Rights Reserved Content cited, quoted etc. from other sources is under the respective rights of that content owner. If you are viewing this page on any website other than http://www.simplyinfo.org (or http://www.fukuleaks.org) it may be plagiarized, please let us know. If you wish to reproduce any of our content in full or in more than a phrase or quote, please contact us first to obtain permission.