SimplyInfo.org Coronavirus Live Blog 7.3.2020
This is an ongoing update of headlines and information related to the coronavirus outbreak. Newest information at the top. If you have a question or want to discuss this issue in depth, we have been discussing this issue in our chat system. Information is updated throughout the day with a large update every morning US time.
Bookmark Covid19.SimplyInfo.org to always get the newest live blog page as we have to close and open a new page periodically to improve load times.
Yesterday's headlines from 6.30 can be found here
We have moved older live blog posts to an archive that can be found in the right side navigation.
_________________________________________________________________________________________________________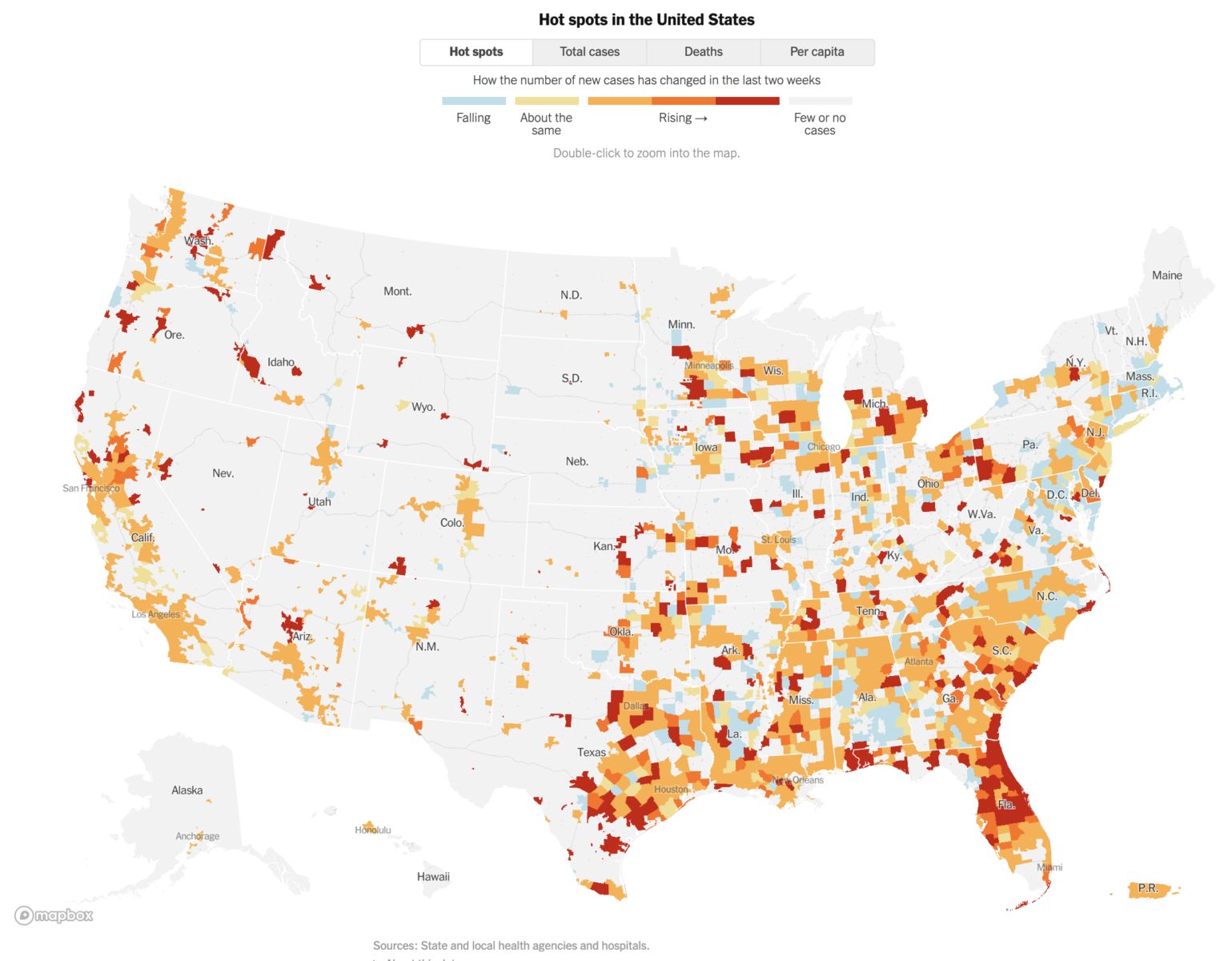 Covid hot spots in the US. Source
U.S. coronavirus cases hit new global record, rising over 55,000 in single day
Brink of capacity: Houston hospitals now transferring COVID-19 patients to other cities
Situation in San Antonio hospitals so dire it brought reporter to tears on CNN
States are putting the brakes on reopening, but experts say coronavirus spread is now hard to control 
California enters perilous phase as state records 8,000 coronavirus cases in one day, breaking its daily record 
LA's Covid-19 'explosion': overwhelmed hospitals, struggling workers, shuttered restaurants
Pennsylvania Joins The Growing List Of States Mandating Face Masks In Public
Tokyo reports 124 COVID-19 cases Friday; 70% in their 20s and 30s
Bolivia digs mass graves as cemeteries fill with coronavirus victims
Heading into the holiday weekend, at least 16 states are seeing the average of new cases over seven days hit record highs: Alabama, Alaska, Arizona, California, Florida, Georgia, Montana, Nevada, New Mexico, North Carolina, Ohio, Oregon, South Carolina, Texas, West Virginia and Wisconsin.
Eastern WA state epicenter of current state outbreak.
More covid-19 patients are surviving ventilators in the ICU
You can catch covid outside, how to be safe.
How to prevent your Fourth of July party from becoming a coronavirus super-spreader event 
National mask mandate could save 5 percent of GDP, economists say The requirement could protect the public while avoiding some of the pain of an economic shutdown, Goldman Sachs research finds
COVID-19 'superspreading' took place across metro Atlanta, study finds 
Colleges Face Rising Revolt by Professors Most universities plan to bring students back to campus. But many of their teachers are concerned about joining them.
"Study finds hydroxychloroquine may have boosted survival, but other researchers have doubts"
What Does Asymptomatic COVID-19 Look Like Under the Surface? — Many individuals show subclinical abnormalities as well as differences from symptomatic patients
Coronavirus: Infected monkeys were protected from reinfection a month later Chinese researchers found that macaques had an enhanced antibody and immune response 28 days after the initial infection Further study of the protection mechanism could help research into vaccines and treatments for Covid-19
'Earlier signs of coronavirus' in sewage samples in Brazil
Brazilian researchers say they found evidence of the pathogen in waste water in November, 91 days before the first case was detected in the country
The presence of the virus was 'modest' until it peaked in March, according to the study
"Senators Press NIH Director on COVID-19 Vax Timeline — 300 million doses by early 2021 is what we're shooting for, Francis Collins says"
Trial of Moderna Covid-19 vaccine delayed, investigators say, but July start still possible
Tesla to make molecule printers for COVID-19 vaccine developer CureVac
Covid is a threat to workers and the modern food system
U.S. farmers scramble for help as COVID-19 scuttles immigrant workforce
For TV networks missing sports, there's one unthinkable scenario: Losing the NFL season
As coronavirus cases rise, governors warn the college football season could be in danger
Why these players decided not to play this season
Tempe bar Varsity Tavern under investigation for allegedly letting employees with COVID-19 keep working
From anti-vax to anti-mask: School districts brace for parent resistance
Over 40 Bay Area principals in quarantine after in-person meeting
"The virus didn't stop a socialite from throwing a backyard soiree. Then tests came back positive."
'It's made it more real to me': What SF contact tracers have learned on the job
Workers getting laid off for second time as virus's surge closes businesses
Australia sees 'partial economic decoupling' from China as Canberra weighs risks of over reliance after coronavirus disruptions
Parliamentary inquiry examined the vulnerability of supply chains, defence and foreign affairs after supply chains collapsed at the height of the coronavirus outbreak
Experts argued there was a critical need for Australia to plan its own network of supply chains to shore up sovereign resilience, with a need to drift away from China
Hermain Cain has covid after attending Trump's Tulsa rally 
Secret Service agents preparing for Pence Arizona trip contracted coronavirus
Now the message is clear, if you are worried about covid19 "Drop Dead": "'We need to live with it': White House readies new message for the nation on coronavirus – The effort to craft a clearer response comes after months of Trump downplaying the health crisis and mixed signals from the administration."
"A Scandal': Contracts Show Trump Giving Big Pharma Free Rein to Price Gouge Taxpayer-Funded Coronavirus Drugs "
Mnuchin: White House 'absolutely' does not regret pushing states to reopen
This article would not be possible without the extensive efforts of the SimplyInfo research team
Join the conversation at chat.simplyinfo.org

© 2011-2023 SimplyInfo.org, Fukuleaks.org All Rights Reserved Content cited, quoted etc. from other sources is under the respective rights of that content owner. If you are viewing this page on any website other than http://www.simplyinfo.org (or http://www.fukuleaks.org) it may be plagiarized, please let us know. If you wish to reproduce any of our content in full or in more than a phrase or quote, please contact us first to obtain permission.