SimplyInfo.org Coronavirus Live Blog 8.21.2020
This is an ongoing update of headlines and information related to the coronavirus outbreak. Newest information at the top. If you have a question or want to discuss this issue in depth, we have been discussing this issue in our chat system. Information is updated throughout the day with a large update every morning US time.
Bookmark Covid19.SimplyInfo.org to always get the newest live blog page as we have to close and open a new page periodically to improve load times.
Yesterday's headlines from 8.18 can be found here
We have moved older live blog posts to an archive that can be found in the right side navigation.
______________________________________________________________________________________________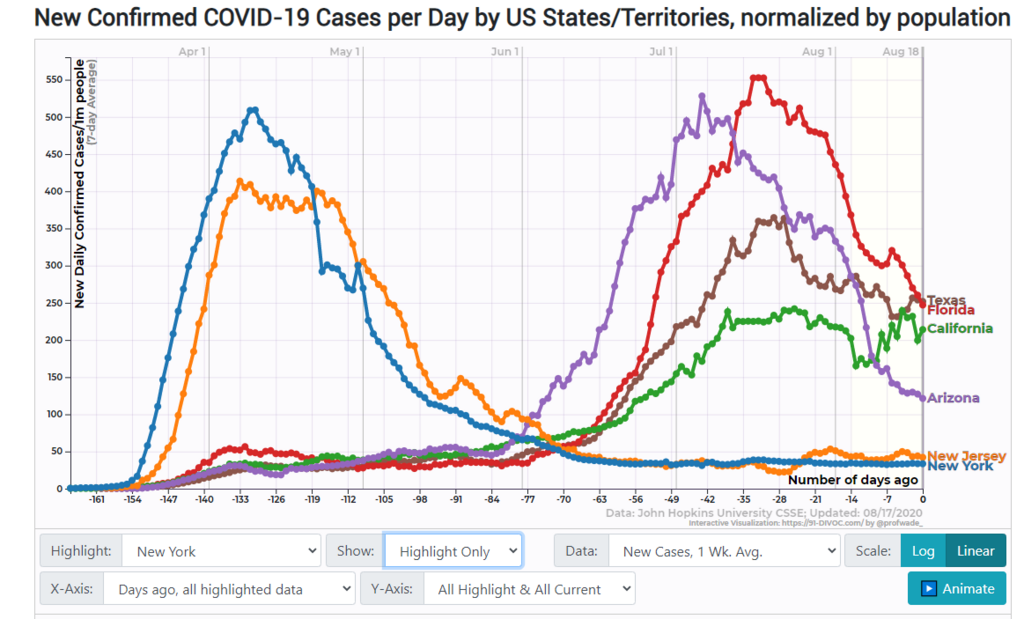 Kids are 'silent spreaders' of COVID with high levels of virus in the airway, MGH study shows
"Children are "silent spreaders" of COVID-19 and have higher levels of virus in their airways than severely ill adults, triggering concerns about a third wave if schools don't reopen properly, according to a researcher of the most comprehensive study of coronavirus pediatric patients to date."
Covid saliva test gets FDA approval
Russia vaccine roll-out plan prompts virus mutation worries
Covid exposure at largest biker bar in Sturgis
Employee at tattoo shop at busy "biker mall" in Sturgis tests positive for coronavirus
South Dakota gave covid test results to law enforcement, then they got hacked in the Blue Leaks data breech.
Female-led countries handled coronavirus better, study suggests
Notre Dame suspends in person instruction after 8 days of classes. Goes remote learning for 2 weeks.
Millions of students are returning to US universities in a vast unplanned pandemic experiment – Despite COVID-19 infections running rampant in many states, nearly 1,000 academic institutions are welcoming people back to their campuses.
Iowa governor's push to reopen schools descends into chaos
School reopenings with COVID-19 offer preview of chaotic fall
MN concerned by other universities abrupt campus closures, warn students to take precautions.
UConn students evicted from dorms for holding pandemic party as schools grapple with COVID-19 crisis
Florida education chief tells districts: Don't rush to close schools when covid-19 cases appear
Some Glendale CA schools will offer students to do remote learning on campus
Massachusetts will require flu vaccines for public school students
New York City teachers threaten to strike over school reopenings
Scientists cast doubt on effectiveness of coronavirus contact-tracing apps
Fauci says he does not see US mandating COVID-19 vaccination for general public
First Covid-19 vaccine trial moving at a good clip, but officials still "very concerned"
Cloth Masks Do Protect the Wearer – Breathing in Less Coronavirus Means You Get Less Sick
Coronavirus Cases Drop 46% In Parts Of S. Carolina With Mask Mandates Compared To Areas Without
"Coronavirus research updates: A coronavirus mutation is tied to less severe illness"  Nature wades through the literature on the new coronavirus — and summarizes key papers as they appear.
'Horrifying' data glitch skews key Iowa coronavirus metrics
New Covid-19 cases are declining across the US, official says, but that could quickly change if people aren't careful
'It Can Happen To Anyone': 7 Family Members Test COVID-19 Positive After Fishing Trip
Here's how Denmark safely reopened schools in a pandemic without requiring masks – And why it might not work in the United States
Seoul's churches, nightlife shut after covid cluster among anti-government congregation
Flu was all but eliminated in South Africa this year. Coronavirus is to thank.
Sweden records highest death tally in 150 years in first half of 2020
India faces protracted slowdown as virus clouds rural revival
Beijing says residents can go mask-free as China COVID cases hit new lows
Coronavirus infections are rising in Europe and vacationers may be partly to blame
Chicago: Navy Pier to close after labor day to cut costs, try to survive pandemic
Hotels Are Headed For An "Unprecedented Wave Of Foreclosures", Lodging Group Warns
Airbnb issues a global party ban at its rental property listings
LA: Mayor Garcetti authorizes utility shutoff at Hollywood Hills party house occupied by TikTok influencers
WI: Middleton coffee shop that posted 'mask-free zone' sign loses lease, closing at end of August
Government shutdowns of "nonessential" retailers were a huge gift for Amazon, Walmart, and Target – Some feared the pandemic would widen the gap between the haves and have-nots of retail. That fear is now reality.
Trump says "we'll look at" treating COVID with an untested, toxic plant extract touted by MyPillow CEO
Anderson Cooper to MyPillow CEO: 'You really are like a snake oil salesman'
Trump claims closing college campuses will "cost lives". Claims college students only experience covid like "the flu" and that they pose a threat to older family members. He provided no evidence to back up his claim 
This article would not be possible without the extensive efforts of the SimplyInfo research team
Join the conversation at chat.simplyinfo.org

© 2011-2023 SimplyInfo.org, Fukuleaks.org All Rights Reserved Content cited, quoted etc. from other sources is under the respective rights of that content owner. If you are viewing this page on any website other than http://www.simplyinfo.org (or http://www.fukuleaks.org) it may be plagiarized, please let us know. If you wish to reproduce any of our content in full or in more than a phrase or quote, please contact us first to obtain permission.