Fukushima News Roundup June 18, 2013
The NRA has announced that they do not consider quake damage to be the cause of the isolation condenser failure at unit 1. Inspectors were only able to look at the systems for the condensers that are outside containment. Pipes and valves also run inside the containment structure, those were not able to be inspected. This work did not look at potential quake damage to other systems from the accident
TEPCO's employees are fleeing the company. Mostly younger workers are leaving with many citing the wage cuts as a considerable reason. Those who are leaving may be finding new jobs in the renewable energy sector in Japan that is in need of workers as it expands.
TEPCO admitted to the government oversight panel that the money they put aside to deal with the disaster at the plant site won't be enough and they will need more for that from the government. The initial plan was to have the government fund compensation claims and TEPCO hold funds for the work at the plant.
Journalists that were allowed to participate in a tour of the Fukushima Daiichi disaster site by TEPCO tell how they were yelled at, barred from taking photos and handled. TEPCO invited the press but thought they could only let them see a small fraction of the facility and get them to only report what and how they wanted it done?
The contaminated water tank for the ALPS water treatment unit was found to be leaking. TEPCO released photos of the weld of the tank that leaked. The weld appears extremely shoddy making one wonder who is inspecting and approving these things?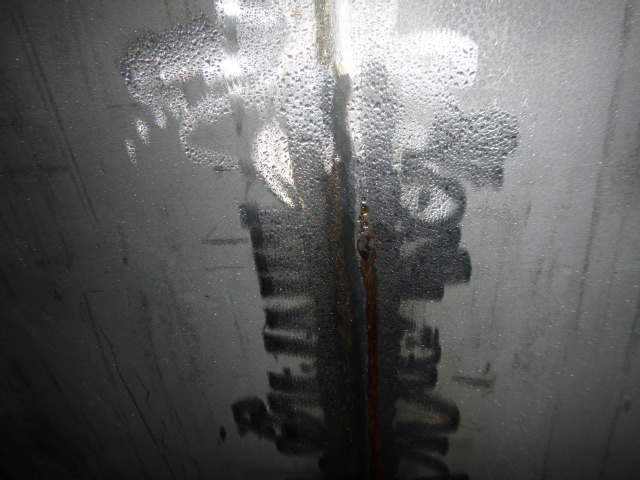 The LDP policy chief made a huge blunder this week, claiming "nobody died" from the Fukushima nuclear disaster. Over 1000 deaths have been attributed officially to the disaster by the Japanese government and qualified them for compensation. There have also been a number of workers who have died at the plant since the 2011 disaster. Making matters worse she used this incorrect claim as reasoning why Japan has to "no choice but utilize nuclear power plants as long as we secure maximum safety". Then she got to the real reasons why the LDP is demanding reactors be restarted. "Ms. Takaichi said the stable supply of power is indispensable for maintaining the competitiveness of industries, and that "a nuclear power plant costs enormous amount of money if we think about the cost of decommissioning, but while it is operating the cost is relatively cheap." 
The governor of Shizouka won reelection, his anti-nuclear stance was cited as the reason. The prefecture houses the Hamaoka nuclear plant, considered to be the most dangerous nuclear plant in the world.
This article would not be possible without the extensive efforts of the SimplyInfo research team
Join the conversation at chat.simplyinfo.org

© 2011-2023 SimplyInfo.org, Fukuleaks.org All Rights Reserved Content cited, quoted etc. from other sources is under the respective rights of that content owner. If you are viewing this page on any website other than http://www.simplyinfo.org (or http://www.fukuleaks.org) it may be plagiarized, please let us know. If you wish to reproduce any of our content in full or in more than a phrase or quote, please contact us first to obtain permission.