TEPCO Declares ALPS Tank Leak As Corrosion, Likely Not
TEPCO told NHK the leaks in the ALPS tanks were due to corrosion. The tanks are relatively new, being put into use within the last year.
TEPCO claimed "dents" found within the tank indicate corrosion. TEPCO goes on to blame the corrosion for the tank leaks.
The weld locations on the tank are the location of the leaks. Destructive testing done on the tanks show what is clearly defective welding, not corrosion.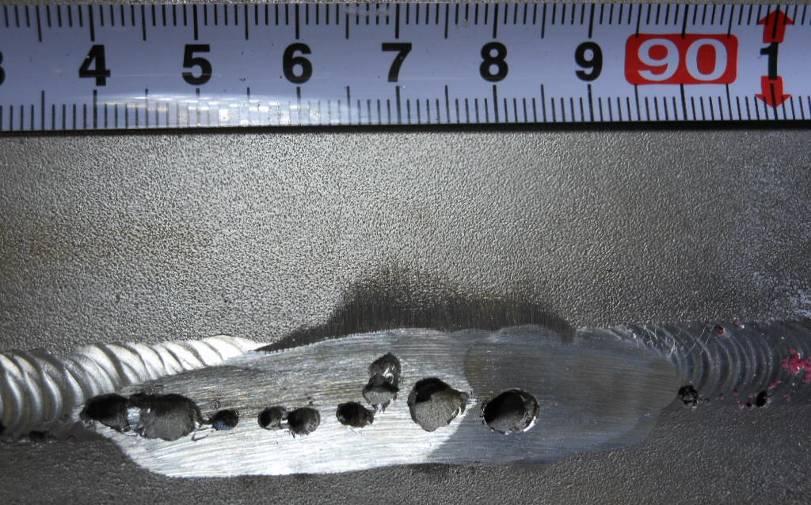 TEPCO photo of ground down welds on the ALPS tank.
Below is an example image of a defective weld showing a common weld defect called "porosity". In the photo below the weld is not ground down as in the image above but the tell tale pattern of holes is apparent.
TEPCO again fails at quality control and oversight then develops some "can't be helped" excuse when things go wrong.
More images of TEPCO's faulty welds can be found here:
http://photo.tepco.co.jp/date/2013/201307-j/130703-01j.html
This article would not be possible without the extensive efforts of the SimplyInfo research team
Join the conversation at chat.simplyinfo.org

© 2011-2023 SimplyInfo.org, Fukuleaks.org All Rights Reserved Content cited, quoted etc. from other sources is under the respective rights of that content owner. If you are viewing this page on any website other than http://www.simplyinfo.org (or http://www.fukuleaks.org) it may be plagiarized, please let us know. If you wish to reproduce any of our content in full or in more than a phrase or quote, please contact us first to obtain permission.