SimplyInfo.org Coronavirus Live Blog 9.18.2020
This is an ongoing update of headlines and information related to the coronavirus outbreak. Newest information at the top. If you have a question or want to discuss this issue in depth, we have been discussing this issue in our chat system. Information is updated throughout the day with a large update every morning US time.
Bookmark Covid19.SimplyInfo.org to always get the newest live blog page as we have to close and open a new page periodically to improve load times.
Yesterday's headlines from 9.17 can be found here
We have moved older live blog posts to an archive that can be found in the right side navigation.
______________________________________________________________________________________________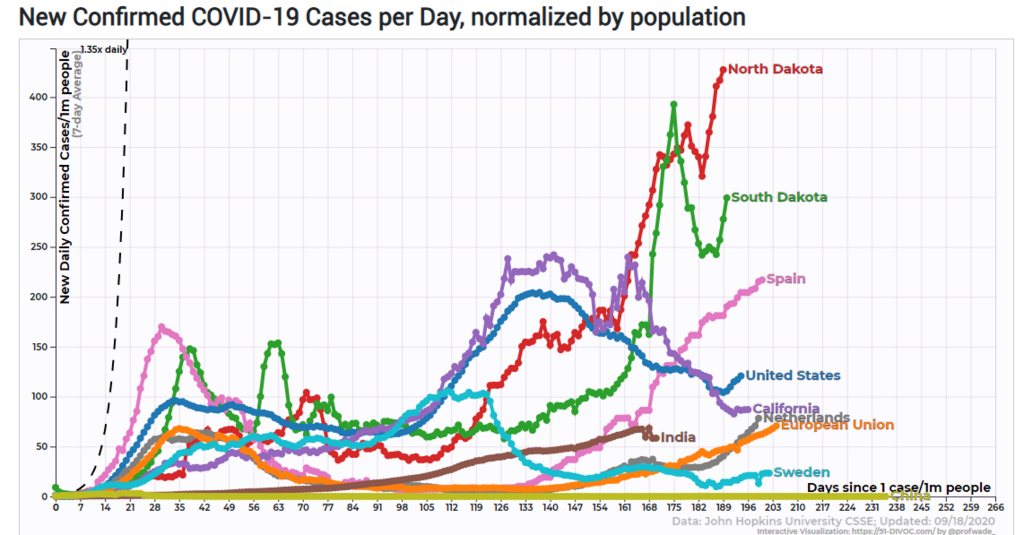 No Longer Does Sweden Beat US in Covid-19 Deaths per Capita  And the US is fast approaching Italy's record. Note that Sweden's neighbor Denmark has suffered a much lower fatality rate, even though over the past two quarters, it has experienced an only marginally lower growth rate (8.9% vs 8.1% for Sweden, not SAAR).
CDC reverses guidance on COVID-19 testing for asymptomatic people
* please see the political headlines at the end of today's report for the back story behind this.
USA high covid19 rates are helping confirm if vaccine works: "Moderna expects to know if its coronavirus vaccine works by November, CEO says"
Covid-19 Live Updates: Drugmaker Shares Details of Its Vaccine Trial In releasing the blueprint, Moderna hopes to earn the trust of the public and of scientists who have clamored for details of its study.
Moderna Trial Protocol Released: "COVE Study: Participate to Make a World of Difference"
AstraZeneca's trial illnesses may not be due to COVID-19 shot, Oxford University says
"A vaccine alone won't stop Covid-19. We also need a trusted plan for it"
"CDC director says face masks may provide more protection than coronavirus vaccine"
Trump admin unveils plan for distributing coronavirus vaccines – The push to vaccinate Americans comes as health agencies have faced outsized pressure from President Donald Trump and his political appointees.
CDC says U.S. should have enough coronavirus vaccine to return to 'regular life' by third quarter of 2021
Enough people have to take a Covid-19 vaccine for it to be efficient, Fauci says
Does Virus Dose or Load Predict How Sick You Get With COVID-19? — Initial exposure, strength of virus infection both seen as contributors to illness severity
'Very serious situation' unfolding in Europe, WHO warns, as cases rise dramatically
Madrid tightens restrictions after coronavirus cases spike – Thirty-seven areas of the Spanish capital will be subject to tougher rules.
Boris Johnson says second coronavirus wave 'absolutely inevitable' – UK prime minister doesn't rule out 'circuit break' lockdown in England coinciding with the half-term holidays in October.
How did coronavirus get transferred from animals to humans? Scientists may have an answer – Experts insist there is evidence the virus was not man-made.
De Blasio delays in-person schooling a second time
Two Bay Area school districts announce distance learning through 2020
"Cops drag anti-masker out of South Dakota school board meeting"
SD: Pierre school district suspends all varsity sports due to "significant" covid cases in the district.
Womens prison in Pierre SD has a significant outbreak
South Dakota hits an all time high virus hospitalization rate of 144 on 9.18
Iowa posts 3rd-fastest COVID spread in nation; more than 2,700 educators have tested positive
Hawaii to lift COVID-19 quarantine for visitors starting October 15 – Surge in demand for flights could mean higher airfares for fall trips
An Idaho pastor skeptical of masks lands in the ICU for Covid-19
House GOP leader says he trusts Trump over CDC director on vaccine timing 
Meadows disputes CDC director's vaccine timeline
Emails Detail Effort to Silence C.D.C. and Question Its Science Emails from a former top Trump health official and his science adviser show how the two refused to accept Centers for Disease Control and Prevention science and sought to silence the agency.
Top HHS spokesperson Caputo to take medical leave – Paul Alexander — who was at the center of efforts to muzzle the department's career scientists — also will be leaving HHS.
'It just created a public relations nightmare': Inside Michael Caputo's time at HHS – Installed by Trump himself, the bombastic spokesman seized control of Covid-19 messaging, with disastrous results.
Health Official Out To Manipulate CDC Reports Has Deep Russian Ties Michael Caputo's efforts to change CDC reports to make Trump look good could be even more complicated.
Top HHS spokesperson Caputo to take medical leave. Michael Caputo will take a 60-day medical leave of absence from his role as the Department of Health and Human Service's top spokesperson — a decision that comes days after he accused government scientists of "sedition" and warned of coming left-wing violence in a Facebook video.
Though CDC Director Robert Redfield denied it, current and former agency officials told STAT that he has too easily caved to political pressures from the White House on COVID-19.
Trump disagrees with CDC head about mask use
Trump disputes CDC director on vaccine timing, says 'he made a mistake'
Donald Trump: If I Could Do COVID All Over Again, I'd Still Let 196,000 People Die
White House Staff Members Reportedly Test Positive For COVID-19 Less Than 24 Hours After President Donald Trump Visited Philadelphia
Trump: My people got 'outplayed' on coronavirus public relations battle
This article would not be possible without the extensive efforts of the SimplyInfo research team
Join the conversation at chat.simplyinfo.org

© 2011-2023 SimplyInfo.org, Fukuleaks.org All Rights Reserved Content cited, quoted etc. from other sources is under the respective rights of that content owner. If you are viewing this page on any website other than http://www.simplyinfo.org (or http://www.fukuleaks.org) it may be plagiarized, please let us know. If you wish to reproduce any of our content in full or in more than a phrase or quote, please contact us first to obtain permission.