SimplyInfo.org Coronavirus Live Blog 10.12.2020
This is an ongoing update of headlines and information related to the coronavirus outbreak. Newest information at the top. If you have a question or want to discuss this issue in depth, we have been discussing this issue in our chat system. Information is updated throughout the day with a large update every morning US time.
Bookmark Covid19.SimplyInfo.org to always get the newest live blog page as we have to close and open a new page periodically to improve load times.
Yesterday's headlines from 10.8 can be found here
We have moved older live blog posts to an archive that can be found in the right side navigation.
______________________________________________________________________________________________
Covid surges in upper Midwest
ND covid case numbers continue to climb. Fargo has no hospital beds left and only 4 ICU beds.
North Dakota not following its own criteria for COVID-19 risk levels as 'painful week' continues
COVID-19 in South Dakota: 617 total new cases; Death toll remains at 286; Active cases at 5,865
Nebraska has 25 ICU beds left, issue stark warning about covid
Coronavirus In Wisconsin: Officials Confirm Nearly 2,700 New COVID Cases
More than 3,000 UW-Madison students have contracted COVID-19. This is one student's story
COVID-19 hospital admissions for Minnesotans reach a single-day high
GOP governors in spiking states strain for silver linings
Cases in Alaska hit a seven-day state record.
New York's COVID-19 hospitalizations are the highest since July 15, Cuomo says
Borough Park protests over COVID-19 rules spurred by Trump supporters and campaign, Cuomo alleges
Borough Park protest organizer claims Trump campaign urged them in robocall; Trump denies involvement
Police Arrest Anti-Lockdown Protest Leader In New York's Orthodox Jewish Community
Central NY positive rate remains just below 1%
New Mexico loses ground in COVID-19 spread fight
Dr. Birx warns of "silent" coronavirus spread in the Northeast
US records its third consecutive day of more than 50,000 coronavirus cases
US sees highest number of new coronavirus cases since August
US coronavirus numbers rise, raising worries about winter
US: "We are all deeply afraid that this is the beginning of that dreaded second wave,' says emergency room doctor
Coronavirus could worsen in winter, remain major threat through 2021, Fauci says
America's newest wave of Covid-19 cases, explained – Covid-19 cases and hospitalizations are up across the country. More deaths are likely to follow.
CDC study: 'Urgent need' to slow spread of coronavirus among young adults
41 states have 'uncontrolled spread' of COVID-19 or are trending poorly, data show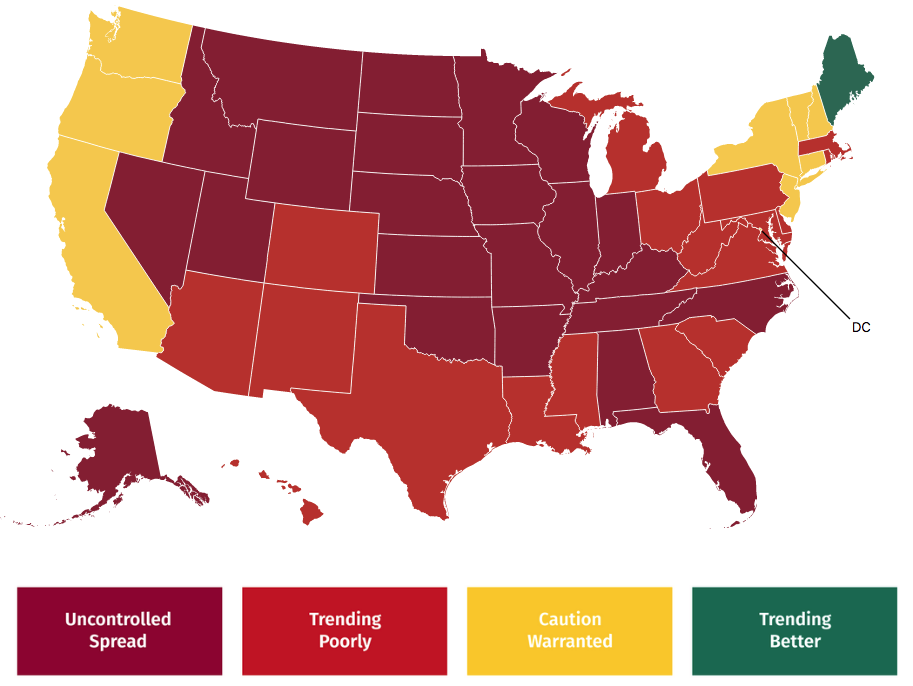 India surpasses 7 million Covid-19 cases
France sees highest daily Covid-19 increase with more than 26,800 cases in 24 hours
Hospitals in northern France cancel non-coronavirus procedures due to rise in cases
As virus fills French ICUs anew, doctors ask what went wrong
French intensive care patients for coronavirus surpass May peak
German hospitals warn of staff shortages amid surging COVID-19 cases
Berlin's first curfew in 70 years kicks in – The German capital has implemented a nighttime curfew in response to a dramatic increase in COVID-19 cases. On the first night of the new regulations the mood was somber in the Friedrichshain district, a virus hot spot.
Coronavirus: Merkel and mayors agree on tougher restrictions – Chancellor Angela Merkel and mayors of 11 large German cities have agreed on stricter controls for urban areas exceeding the government's threshold for concern. Berlin, Frankfurt and others have hit the warning level. 
Spanish government declares state of alarm in Madrid to tackle coronavirus spike – Decision came hours after Madrid High Court struck down coronavirus restrictions imposed on the capital by the health ministry.
Ireland records its highest Covid-19 case rise since April
More than 200,000 people in England had coronavirus last week – Concerns are growing over whether hospitals can cope with the situation for much longer.
UK national lockdown "a possibility," government advisor says
Inquiry begins into blanket use in England of Covid 'do not resuscitate' orders Concerns raised amid fears some elderly people may still be affected by the practice
Can Europe's hospitals cope with coronavirus wave? — by the numbers – So far, hospitals are coping with a surge in coronavirus cases, but that could change quickly.
'A Definite and Sustained Increase': Europe Leads Record Single-Day Worldwide Covid-19 Infection Surge
Russia sees second day of record-high increase in cases
Face masks made compulsory in public in Tehran as COVID toll rises
Hong Kong records 6 new covid cases. 3 from an outbreak at a bar, 3 imported from India.
A Chinese city will test all 9.5 million of its residents.
Nepal sets new single-day record of Covid-19 cases as total infections top 100,000
Hard-hit Peru's costly bet on cheap COVID-19 antibody tests
Kim Jong Un insists North Korea has no Covid-19 victims
How Arizona Squelched Its COVID-19 Surge
As cases rise the WHO says lockdowns are not the answer but doesn't say what is.
WHO Dr Nabarro "no lockdowns", WHO Director-General Ghebreyesus "no herd immunity": "WHO chief calls herd immunity approach to COVID-19 'simply unethical'
COVID-19: WHO Warns Against Herd Immunity Theory
Immunity, and Other Deadly Delusions – Abandoning solidarity for the siren song of age-targeted reopening is a political error and a medical mistake.
"'I Feel Like I Have Dementia': Brain Fog Plagues COVID-19 Survivors – "There are thousands of people who have that," said Dr. Igor Koralnik, chief of neuro-infectious disease at Northwestern Medicine in Chicago, who has already seen hundreds of survivors at a post-COVID clinic he leads"
30 year old Texas man suffers brain damage from covid, no other symptoms
Local intensive care unit doctor says recovering from COVID-19 could require extensive physical therapy
He called it a 'scamdemic.' Then his family fell ill, one by one.
Nurses suffer burn-out, psychological distress in COVID fight – association
Extra pounds may raise risk of severe COVID-19
Regeneron CEO: Trump 'is a case of one' and 'weakest evidence' for Covid-19 treatment – He says "large clinical trials" are still needed.
Taxpayers are subsidizing 80 percent of Regeneron's COVID-19 treatment's R&D costs
The Regeneron antibody technology was originally developed for Ebola prior to the pandemic.
SARS-CoV-2 Vaccine Development: Current Status
A Coronavirus Vaccine Could Kill Half A Million Sharks, Conservationists Warn
7 looming questions about the rollout of a Covid-19 vaccine
Pfizer trying to defuse critics amid push for vaccine before Election Day – The campaign by Pfizer comes amid growing scrutiny of the CEO's predictions that the company will know this month whether it has a viable vaccine.
Covid virus 'survives for 28 days' in lab conditions
"The effect of temperature on persistence of SARS-CoV-2 on common surfaces"
"Stability of SARS-CoV-2 in different environmental conditions"
Previous Infection With Other Types of Coronaviruses – Including Common Cold Viruses – May Lessen Severity of COVID-19
How SARS-CoV-2 disables the human cellular alarm system
White House Blocked C.D.C. From Requiring Masks on Public Transportation
US: Advocates plead for housing aid as eviction cliff looms
College towns without college students have small businesses struggling – Restaurants and stores that rely on college students are trying everything from takeout to GoFundMes,
and some schools and alumni are pitching in
.
Covid-19 outbreak tied to youth hockey tournament in Alaska
Two MN pro soccer players test positive, games called off
Bears practice squad player tests positive for COVID-19: report
New York Jets players, coaches sent home after positive COVID-19 test
NFL postpones Monday's Patriots-Broncos game after new positive COVID-19 test shuts down facilities
"Eric Trump falsely calls president's coronavirus treatment a vaccine"
The 9 people who caught covid at Trump's MN rally, 2 are in the hospital and 1 in the ICU
Fauci says clip in Trump ad is out of context
What Are The Possible Side Effects Of Trump's COVID-19 Treatment?
Trump no longer considered a risk to transmit COVID-19, doctor says
*no proof of a negative test has been provided to the public.
"Former Gov. Chris Christie was released from Morristown Medical Center on Saturday, one week after testing positive for COVID-19."
Trump campaign manager returns to office 10 days after positive COVID-19 test
Trump returns to trail amid concerns over COVID-19 diagnosis
"McConnell hasn't been to White House since early August because of lax COVID rules – The Senate, by comparison, has implemented stringent safety measures amid the pandemic"
SC senate debate canceled after Lindsey Graham refuses to take a covid test
This article would not be possible without the extensive efforts of the SimplyInfo research team
Join the conversation at chat.simplyinfo.org

© 2011-2023 SimplyInfo.org, Fukuleaks.org All Rights Reserved Content cited, quoted etc. from other sources is under the respective rights of that content owner. If you are viewing this page on any website other than http://www.simplyinfo.org (or http://www.fukuleaks.org) it may be plagiarized, please let us know. If you wish to reproduce any of our content in full or in more than a phrase or quote, please contact us first to obtain permission.