Fukushima Daiichi Unit 4, Unaddressed Risks
TEPCO released a handout showing that debris and the upper walls has been removed from unit 4. The report also states that they will leave the large equipment on the refueling deck until October 2012 when they begin installation of the new cover building. TEPCO to date has given no explanation for not removing these objects from the refueling floor in a timely manner. This section of the reactor building has visible damage and is the wall section known to be gradually leaning and bowing out of alignment.
Previous reports admit that the west section of the refueling floor is assumed to be structurally damaged.  The area under and towards the mid-line of the yellow containment cap shows to be damaged. Both the floor and the west wall have documented damage. Common sense would suggest removing the series of very heavy objects that include multiple concrete slabs that make up the reactor well cover, yellow containment cap, reactor cap and other large gear from the west side of the refueling floor. TEPCO's lack of an explanation about why they opted to wait months to remove the equipment raises questions about undisclosed damage by TEPCO or incompetence in their planning. TEPCO should give the public a clear explanation for their actions.
Diagrams, more photos and the TEPCO handout below:
Handout: handouts_120711_01-e

larger view by clicking on photo above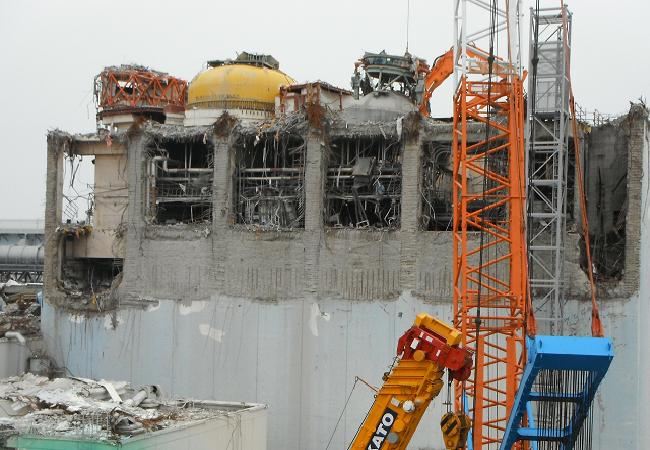 This article would not be possible without the extensive efforts of the SimplyInfo research team
Join the conversation at chat.simplyinfo.org

© 2011-2023 SimplyInfo.org, Fukuleaks.org All Rights Reserved Content cited, quoted etc. from other sources is under the respective rights of that content owner. If you are viewing this page on any website other than http://www.simplyinfo.org (or http://www.fukuleaks.org) it may be plagiarized, please let us know. If you wish to reproduce any of our content in full or in more than a phrase or quote, please contact us first to obtain permission.