SimplyInfo.org; Fukushima Nuclear News Roundup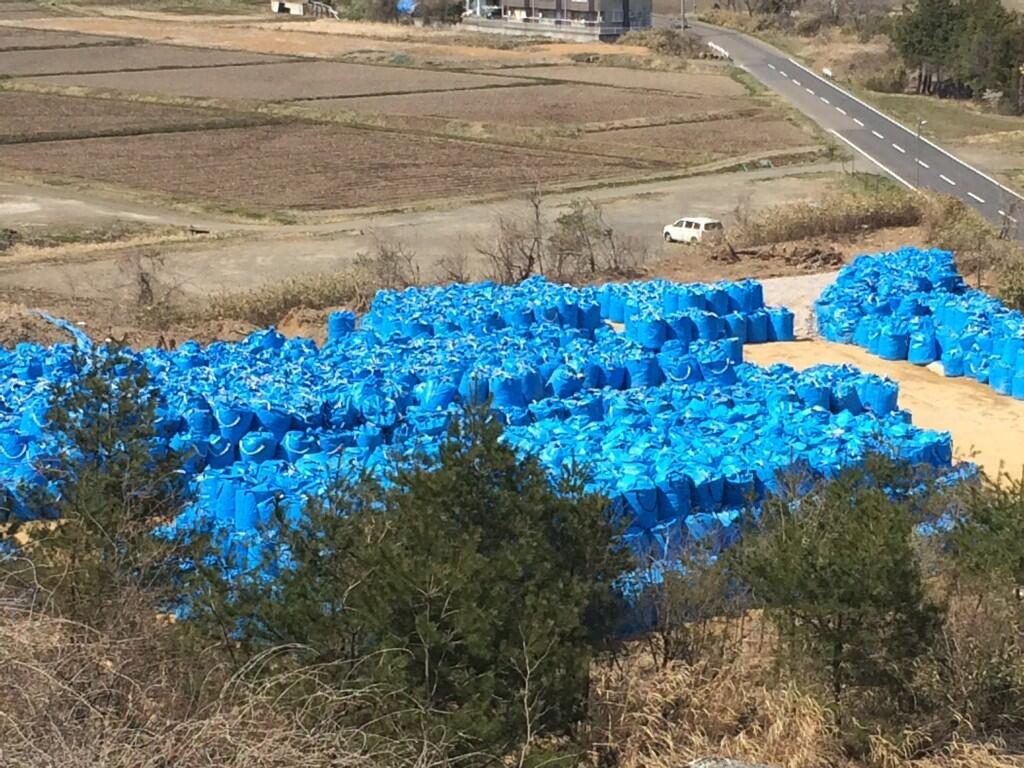 Nuclear waste (mostly soil and plant matter) piles up around Japan with nowhere to go. Twitter user hitsuji44 shared the image to the left of one of the growing stockpiles of bags.
A Fukushima Daiichi worker at the ALPS decontamination unit fell ill and was taken by helicopter ambulance to the hospital. TEPCO only stated that he "was in bad shape" (machine translation to English).
http://www.tepco.co.jp/nu-news/2014/1236241_5878.html
JAEA studied standing trees around Fukushima Daiichi and concluded the bulk of their contamination was caused by fallout of the initial accident at the plant.
An earthquake risk report due to Japan's NRA by KEPCO has been delayed a second time. The report for the Mihama nuclear plant was due the end of April with the hopes of explaining how multiple faults under the plant would still allow for safe operation.
http://www.fukuishimbun.co.jp/localnews/nuclearpower/50358.html
KEPCO was also sent back to recalculate earthquake estimates on the Oi nuclear plant. NRA expected more ground movement than KEPCO had and has requested the company reprocess their analysis.
http://headlines.yahoo.co.jp/hl?a=20140509-00000114-mai-sctch
As TEPCO struggles to stay alive as a company, other companies are moving in on their Tokyo electric power market.
http://ajw.asahi.com/article/business/AJ201405100034
An Asahi Shimbun called on Japan's power companies to rethink their business strategy for the future before they all fail.
http://ajw.asahi.com/article/views/editorial/AJ201405100021
Toshiba booked a 34% loss for the company this year. They blamed stalled nuclear projects for the bulk of the losses
http://www.japantimes.co.jp/news/2014/05/08/business/toshiba-logs-34-drop-in-net-profit/#.U2zQ8_ldUrk
A majority of Fukushima evacuees now residing in Tokyo may be suffering from PTSD
http://english.kyodonews.jp/news/2014/05/289354.html
The new Godzilla movie being released in the US has gotten attention in Japan for its criticism of nuclear power.
http://ajw.asahi.com/article/cool_japan/movies/AJ201405100027
One of the train lines into the evacuation zone will resume. Train service on the Joban line will resume service to Naraha now that parts of the town have been reopened.
http://www.minpo.jp/news/detail/2014051015581
Spotted halibut fry have been released off the coast of Soma, north of Fukushima Daiichi. Fish were transported from a hatchery in Iwaki, the local hatchery had been in the evacuation zone and is no longer in operation.
http://www.minpo.jp/news/detail/2014051015565
This article would not be possible without the extensive efforts of the SimplyInfo research team
Join the conversation at chat.simplyinfo.org

© 2011-2023 SimplyInfo.org, Fukuleaks.org All Rights Reserved Content cited, quoted etc. from other sources is under the respective rights of that content owner. If you are viewing this page on any website other than http://www.simplyinfo.org (or http://www.fukuleaks.org) it may be plagiarized, please let us know. If you wish to reproduce any of our content in full or in more than a phrase or quote, please contact us first to obtain permission.