Fukushima Unit 1 New Torus Room Inspections
What are they doing?
TEPCO & Hitachi are apparently looking for damage to the vacuum breaker pipes that run in tandem above the downcomers to the torus inside unit 1. The handout before they did the actual work cited both the vacuum breakers and the location they found one leaking so they may have had other data that lead them to believe this was a problem.
Additional parts of the plan include using both the robots and the robot boat to look at penetration locations in the outer wall that faces the turbine building. They didn't clarify why they were investigating those but it could be speculated they consider this a route of highly contaminated water or fuel debris to leave the building.
The new robots used to traverse the catwalk with telescoping camera arms were dropped in through a hole in the 1st floor down into the torus room. The location is identified on the above floorplan by the round red circle.
What they have found so far is a small leak on a vacuum breaker for the downcomer to the torus. The media has taken TEPCO's claim that this is "THE" leak at unit 1 but that is obviously not the case. An expansion joint in the vacuum breaker is considered the leak point. The diagram below shows a simplified example of the vacuum breaker line.

 This diagram below shows the vacuum breaker line for unit 1 in more detail.

 The leak was found in the flexible bellows joint of the vacuum breaker.

This image shows the bellows joint.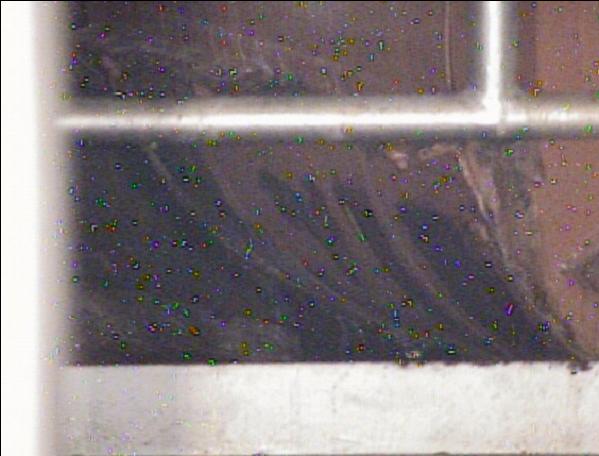 The vacuum bellows with the leak identified below.
TEPCO plans to do additional inspections inside the torus room this week. These bellows joints are a known risk for damage and leaking. TEPCO has yet to release video of the inspection work, causing concern they are not fully disclosing findings inside unit 1's torus room. A previous video of unit 1's torus room had sections edited out. Now this work has been presented to the public without any video to document the work.
A rough machine translation of the two handouts for this work can be found here:
https://docs.google.com/document/d/1EJVhFh5R2338Rw54srAcPKvVDDrbUMKJQSBnN5tkasI/edit?usp=sharing
This article would not be possible without the extensive efforts of the SimplyInfo research team
Join the conversation at chat.simplyinfo.org

© 2011-2023 SimplyInfo.org, Fukuleaks.org All Rights Reserved Content cited, quoted etc. from other sources is under the respective rights of that content owner. If you are viewing this page on any website other than http://www.simplyinfo.org (or http://www.fukuleaks.org) it may be plagiarized, please let us know. If you wish to reproduce any of our content in full or in more than a phrase or quote, please contact us first to obtain permission.